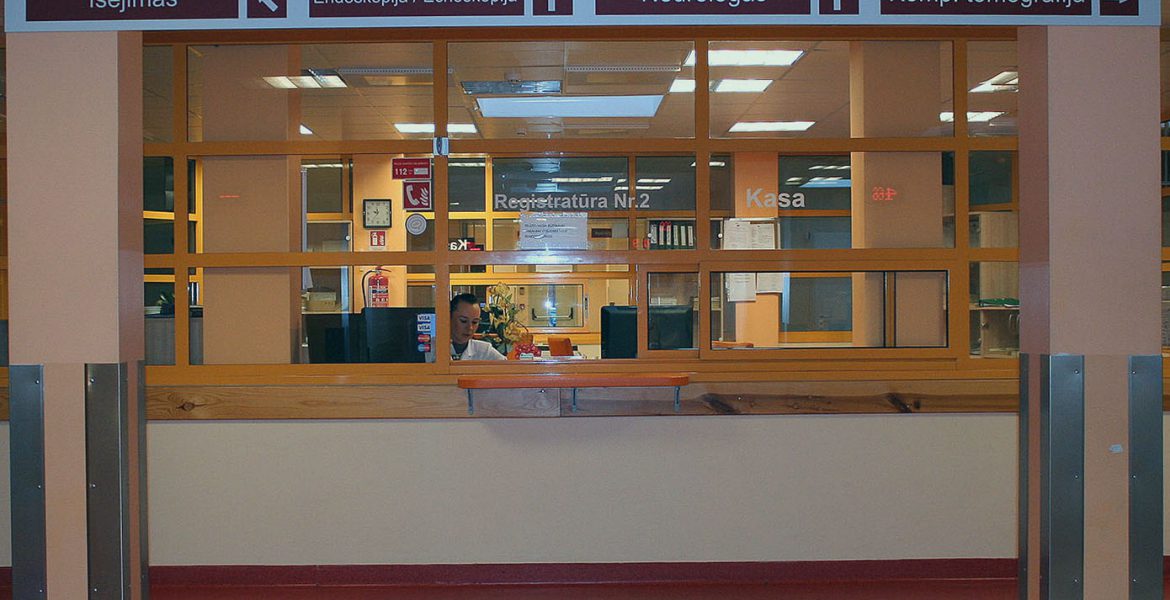 Bribing Doctors: a Lithuanian Custom
This post is also available in: Lithuanian, French, German, Italian, Spanish
In Lithuania people must pay for access to the public health system. Many medical specialists receive informal 'under-the-table' payments to give priority or better treatment to generous patients. This is the way things are in many countries in eastern Europe as well as some outside that region, but in a small territory like Lithuania, the situation is aggravated by conditions like very low numbers of organ and blood donations, the massive emigration of specialists and a considerable delay in medical technology.
This practice is the result of out of date, inherited Soviet-era institutions and private centres representing neither an affordable nor comprehensive alternative. This slow transition takes place not only with bribes, but with greater inequalities that are maintained by Lithuania: the EU country with the fourth worst healthcare system, according to the 2007 report from the Health Consumer Powerhouse EHCI. At a basic level, only Poland, Bulgaria and Latvia are worse off.
In Lithuania the phrase 'they're bad or don't exist' applies to patient organisations that are involved in decision making, negligence insurance without blame, electronic registers – which won't be completed until 2013 – and family doctors that are available immediately or by phone 24/7.These many shortages at the moment provide the country with an alarming indicator: the elevated number of avoidable deaths. In the report, the missing 'under-the-table' payment level is recognised – the explanation being that it's impossible to collect data on the practice and do so without stigmatising a number of eastern European states where informal payments are not restricted to health services.
Public system: a reserved diagnosis
The institutional face of this situation is that of Natalia Keturkienė, the Ministry of Health spokesperson. From the side, Natalja's top reveals a bare cleavage, clearly lacking in shame just like the organism she represents.
While she assures us that she doesn't know the situation of the pharmaceutical companies in the country nor their relationship with the ministry, she provides this year's programme with gusto – its principal objective? Increasing patient confidence in the system. As the text continues, a way of improving doctors' conditions is also proposed, since the discouraging schedules and salaries – 3, 055 litas a month (980 euros) – seem to be the main causes of the appearance of corruption and of medical minds disappearing. Currently there are only 12, 000 doctors in Lithuania, quite a lot of whom receive informal payments that exceed 2, 000 litas. The practice has reached such a level of acceptance that up to 125 litas (40 euros) is not 'illegal'; rather, it is considered a 'gift.'
Maybe those photocopied programmes will provide the increase in confidence that the ministry of health so longs for, something Santariškių klinikos, the main Lithuanian public hospital, is not doing. It is a large, grey, solid, cold, dirty place. As they put it over there, it is 'Soviet'. 350 rooms line up along almost pitch-black corridors. The half-light of the main corridor – which is blindingly bright in comparison – supplies the view of some discoloured photographs of the capital's different churches and among them, a sad and improvised altar with a misshapen manger.
Julija Širokova, the young woman responsible for ethics in the centre's transplant department, talks about waiting periods of more than ten years for a kidney, but emphasizes that 'Lithuania is in the EU. It must be taken into account that we are in the middle of a process, we are not so bad.' When questioned about bribes being given to doctors, she is quick to clarify that in her department 'these favouritisms cannot take place because donor profiles are very specific,' saying for a fact that they do take place in other areas. On the topic of the hospital's court cases she comments that since independence they have gone from not a single case of negligence –because they were covered up – to having 'too many, thanks to the dynamic of lawyers who live on medical cases.'
Her office is austere and empty beyond description. On the other side of its walls there are doors supported by bricks through which stretcher-bearers enter a room where wires hang from the ceiling, like garlands for a distant opening celebration. Half a kilometer from Santariškės, in a centre for trauma recuperation that is also abandoned in the gutter that leads from Vilnius, Rūta –a dermatologist- observes that the poor financing forces the prioritisation of upper level specialties like cardiology, relegating other disciplines, like her own, to second place. 'Still, with good preparation we tried to do it well.' Compared to the private sector where she works a few days a week, she considers the technology available there to be 'much better.'
Private system: neither alternative nor aid
The Medical Diagnostic Centre stands out near the old part of the capital. Its rounded silhouettes, materials painted in white, orange and blue –a study in the opposite of the Soviet style- seem light, like the interior of an aeroplane. It is small and completely aseptic.
Through a floating cylindrical corridor, on the top of its four floors, we come to the director's office in the centre considered to be the best in all of Lithuania. Amongst filing cabinets and coordinating bookshelves, degree certificates and three healthy pots of orchids, Laimutis Paškevičius suggests that 'Soviet-era mentalities must change in these liberal times. Nothing is free… least of all the public health system.'
At 38, Paškevičius is also director of the association of Lithuanian private hospitals and considers in the case of Lithuania 'the solution lies in the collaboration of both systems.' He hopes that the currently isolated collaborations will come to an end with the formalisation of the new 2007-15 national health system plan. Also, in less than a year a common way of achieving private insurance policies with monthly payments must be approved. Paškevičius is doctor and 'manager', and has completed prominent studies of both sides because he firmly believes that the directors of these centres 'must not only be doctors, but also administrators.'
After fourteen years in the medical service, the last four as the head of the Medical Diagnostic Centre, the first private centre constructed following Lithuania's independence, Paškevičius decries the 'discrimination against private centres by the state' because 'they should promote competition in any event. It will make us all better.' But there is a slight hint of resignation as he adds: 'the technology is quick to arrive, but mindsets are much slower to change.' It could be that he is referring to the technology at his centre, which due to an agreement with providers, changes every two years; although he admits they do not cover oncological treatments, for example. When he talks about the centre's legal records, they are just as clean and clear as its ten individual rooms. Like its sterile operating theatres, they stand out like beacons in this bleak darkness.
Emergency services
It seems that both public and private hospitals do not really exist; they are scenarios that represent two extremes. It looks like the only site that truly exists is the emergency services of the Vilnius hospital, because both blood and people are found there.
Very quietly, like the motorway that leads there, groups of Lithuanians wait their turn; with empty stares they don't dare lose themselves completely, even the sweat doesn't smell entirely bad, it only smells of the concept of 'sweat'. There, the sheets bear a rough geometric pattern in an earthy tone. Between the stains left by the dampness and doors covered in faded paint there are folios filled with drawings made by small children, of suns and rainbows and people staring straight ahead wearing fixed smiles. The other decorations in the labyrinthine echo-filled corridors are papers from 1998. A young man in his thirties is completely engrossed in them as he presses a cloth to his head to absorb the bleeding. Just like him, the Lithuanian health system is awaiting treatment.
AUTHOR Marta Palacin, TRANSLATOR Erin Woycik