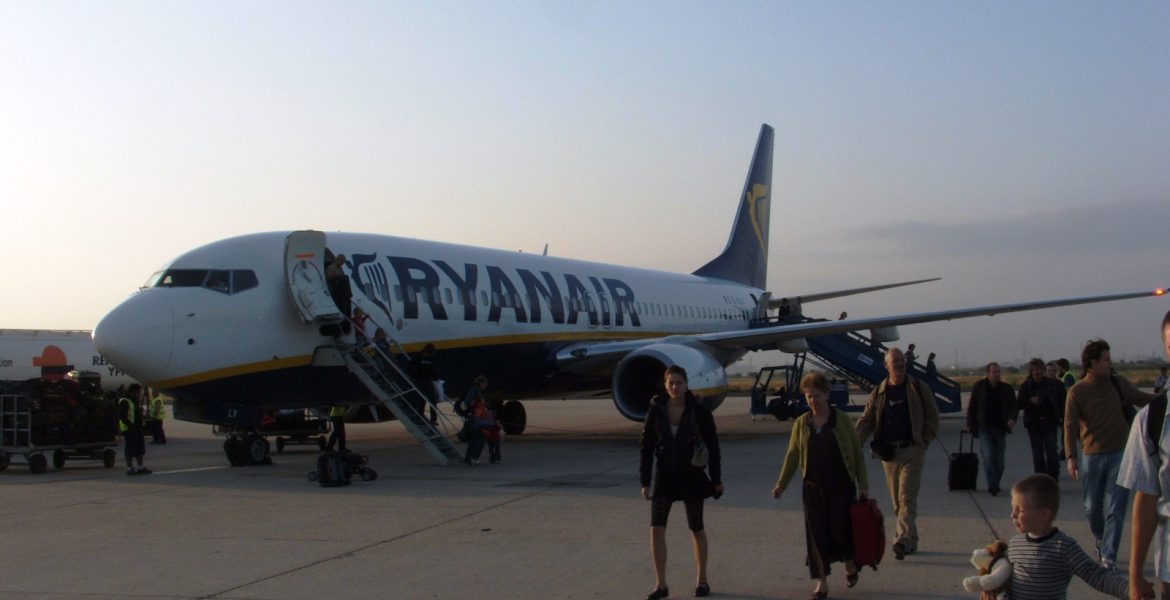 Emigration, Public Enemy No.1
This post is also available in: Lithuanian, Polish, French, German, Italian, Spanish
Boxes full of provisions are tucked away just under the roof of a deep refrigerated warehouse in Clondalkin, 20 minutes outside of Dublin, the Irish capital. Temperatures here are below 15 degrees Celsius. Vytautas Šlivinskas is wearing special clothes to protect him from the cold. Today his job is to repack pizza and ice-cream for different branches of one of the biggest supermarket chains in Ireland. He is preparing them for shipping with ten other Lithuanian colleagues.
Independence and liberty
3.5 million people live in Lithuania today. About half a million emigrated after independence in 1991. There are no exact figures, but many are illegal immigrants. 100,000 Lithuanians live in Ireland alone. Other countries targeted by immigrants include Spain, the UK, and America. Following a survey by the Public Policy and Management Institute, the reasons for immigration are attributed to poor working conditions and low pay.
'In Ireland I earn 500 Euros (after tax) per week,' says the 21-year-old. 'A friend of mine back home in Vilnius works as a forklift truck driver. Translated into Euros, he earns 140 a month.' Šlivinskas came to Ireland two years ago: 'I wanted to be free and no longer dependent on my parents. I found myself bored with study, so I gave it up.'
Many Lithuanians had already left for other parts of the world during the time of the Tsar, in order to avoid the compulsory year of Russian military service. The first big wave of emigration began shortly after Lithuania's independency. The country consequently underwent a big economic crisis with unemployment rates rising to 20%.
'Many Soviet public enterprises were run with a complete lack of efficiency and took on too many employees. However this was not the case in the economical market, so many businesses either had to close or let a lot of their employees go,' explains Jonas Čičinskas, Professor of Economics at the University of Vilnius. Ten thousand lost their jobs and many left Lithuania seeking prospects abroad. In the long run, this has had a positive effect on the economy as those who left still today send hundreds of millions of Euros home ever year. They are therefore helping to once again give some impetus to the country's economy.
Dangers of over-competitiveness
Since Lithuania became a member state of the European Union in 2004, even more people are moving out. It's giving rise to concern amongst politicians and economists, who are viewing the increasing development with consternation. Meanwhile the economy is gaining momentum, being 7.5% up on 2005. The small Eastern country is suffering from a severe labour shortage.
As with many new EU member states, the average wage has now increased so much so, that in 2006 almost 20% of the population was earning a monthly salary of 479 Euros. Because the economy today is particularly employment-intensive, goods such as furniture and textiles are being produced, which in the long run means a loss in over-competitiveness with products which are being produced cheaper still in Romania and Western Russia. Professor Čičinskas believes that Lithuanian businesses badly need to bring new innovative products to the market. Other than this though, the country relies upon investment in future technology of foreign firms. 'In particular, the emigration of highly qualified academics (the so-called 'brain drain') has hindered the modernisation of the economy enormously. This is the real danger for the future of our country,' he says.
Gabrielius Žemkalnis, a representative of the Lithuanian World Community in Vilnius, an organisation which represents the interests of Lithuanian emigrants, is of a similar opinion. Žemkalnis has an office far from the gaze of the Lithuanian parliament – not without reason, as the 78 year-old former expatriate is first and foremost a lobbyist. 'I would not be very happy if our organisation was to be redundant anytime soon, because all emigrants return home eventually,' laughs Žemkalnis. In explaining what the state must first do in order to achieve this goal, he slams the country's bureaucracy. 'There's too much. We do not gain any foreign investors. We scare off any fledgling home-grown businesses,' says a man who spent ha;f a century in Australia.
Losing my culture
Politicians in Lithuania have known for a long time what the problem is. Barely a month goes by without new proposals being made as to how to put an end to emigration. At last Prime Minister Gediminas Kirkilas has demanded a decrease in income tax, so that all Lithuanians stand to make more money. This is the only measure which can avert further emigration and secure the return of existing Lithuanian emigrants.
Many Lithuanians are terrified that their national identity will be lost along with their fellow inhabitants. Their thinking is that if even more of their people leave so their language and customs will soon fall into oblivion. This means that a lot is riding upon Lithuanian emigrants maintaining their culture whilst living abroad, so there are many Lithuanian festivals, which take place at regular intervals. In Spain, eleven Lithuanian schools have already been opened. 'The children have to learn to speak in their native tongue. Only then will they be able to find their feet again in Lithuania,' explains Žemkalnis. 'They will only return if there is an improvement in living conditions in this country.'
Vytautas plans to leave Ireland shortly to pursue a particular development in his homeland. 'Each time I come back home for a holiday, I find that so much has changed for the better. I miss Lithuania and now is the time to go back,' Vytautas says. He will still meet his Lithuanian friends one last time in Clondalkin for a pub-crawl. Vytautas has no idea what will happen in the future: 'I have many plans which I want to put into practice in Lithuania immediately.'
AUTHOR Sven Becker, TRANSLATION Gemma Rutter