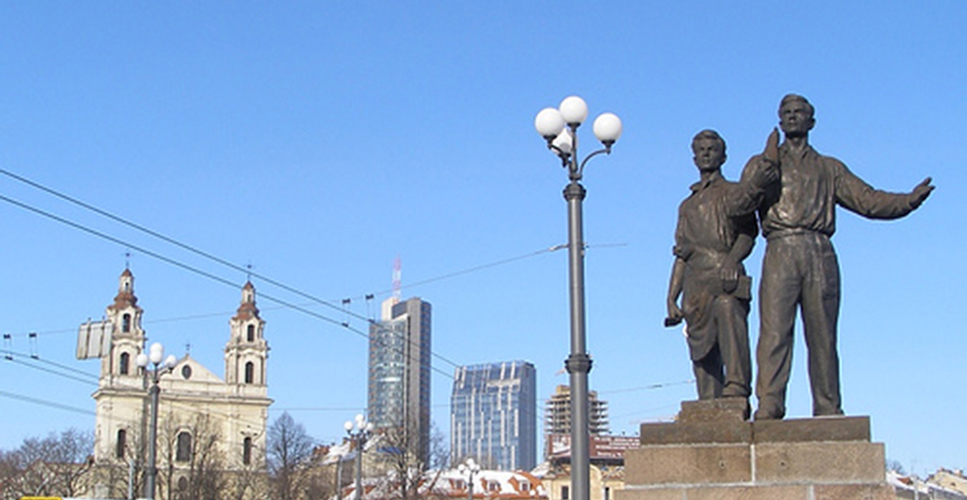 This post is also available in: Lithuanian, Polish, French, German, Italian, Spanish
Vilnius is booming. Not far from the Old Town, the city's new skyline is glinting in the sun on the north bank of the river Neris. Between the glass facades of the skyscrapers, shoppers are scurrying around on marble pavements. Hardly thirty paces further there is a building site. Noisy builders are working on the dusty frame of a tower block. From there your eye is drawn northwards by the thin shadows of the post-modern giants, and alights on a village in the middle of the city – Šnipiškės.
The area is almost square, and all around it people live in renovated apartment blocks, work in newly constructed commercial districts, and go shopping in large supermarkets. But not in Šnipiškės. Its 120 hectares are home to Lithuanians, Russians, Roma, and Poles, who live in rustic wooden houses with gardens off crooked tracks full of potholes. Many have no mains water supply, just an earth closet in the yard.
Record height
What's more, the city is absorbing the village bit by bit. Ever since economic growth has been in double-figures and local politicians passed a development plan for Šnipiškės, the cranes haven't stopped. The city authorities themselves took the first step in 2003, moving into a new office block. Right next door, the 33-floor Europa-Center was finished the same year – complete with a shopping centre, office space and some flats – becoming the tallest building in Vilnius.
Meanwhile the building boom has come to a halt. The problem for investors and estate agents is that after Lithuanian independence in 1991, houses and land in Šnipiškės were returned to their original owners and privatised. Most of Šnipiškės is private property, Lithuania has laws. Not everyone wants to go.
'Everyone's afraid here' 
'They threatened me. For the past two years, people from the construction firm have been coming time and again, sometimes every day. Leave or you'll have no more life, they said.' Algis M., who didn't want to give away his full name, is audibly excited. His wife declined an interview at the front door, half an hour later he rang on the mobile: 'Everyone's afraid, but I don't want to leave. In September 2005 they set fire to my fence, and then a month later, to the house. A neighbour saw the fire after five minutes and nothing happened. A month ago, on January 16, there was a fire around the corner at 28 Šilutės Street. The strong wind meant the house burned down quickly.
No one was charged for the fires, but the effects were clear. Algis M.'s plot of land, with his own house and two smaller rental properties, is one of the last remaining on a large field on the North-East edge of Šnipiškės. Most residents have sold their houses, and they have been torn down. Apart from Algis M., a single 91-year old lady also lives on the field. She has tied her gates with wire and protects herself with two large guard dogs. The third most persistent is a family who recently sold their house. Workers are now building a tall fence around the whole field ready for construction work.
Algminas Slavinskas, Imobilar manager in Šnipiškės, refused to express an opinion on the fires and the plans for the site to cafebabel.com. According to passers-by, a trading centre will be built here. Point 6 of the city development plan marks the site as a commercial zone.
Charred ruins in the snow
There have been fires in Šnipiškės for the past two years. It's not just by Algis M. that charred ruins stand in the snow, partly fenced off and protected by security firms. After the last wave of fires around New Years, two youths, aged 15 and 16, were arrested for arson on two houses, which had already been bought up and were lying empty. Was it simply a case of youthful high spirits, or were they on someone's instructions?
Rta Matonienė, head of the planning department at the city council, is responsible for the development plan for Šnipiškės. She has her own theory on the incidents, 'The houses weren't set on fire on purpose. There are many homeless people in Šnipiškės. They go into empty houses, light fires, and then the whole thing catches fire. You know what these people do.'
Eglė Pelienė, director of Šimtas vienas estate agency in Šnipiškės, also has little to say regarding the fires. 'If someone is going there, and saying to people 'Leave or something bad will happen', that is dirty. That is criminal.' She refuses to comment further on the matter.
An attractive place to build
Prestigious office space in the Old Town is becoming scarce for expanding Lithuanian companies – joined increasingly by foreign companies too. Offices and plots in the 'New Centre' planned for Šnipiškės, are also in great demand. The area is only a kilometre from the Old Town, and planning permission is given without preservation orders or height restrictions. Transport connections are good.
The 'New Centre' should be finished for when Vilnius become Cultural Capital of Europe in 2009. But even Frau Matonienė from the city council doesn't believe that any more. 'The houses are privately owned. It can only progress bit by bit. No-one knows how long that will take.'
Šnipiškės' residents, though, who often have little save the ground beneath their feet, have learnt market economy in the past few years. 'Some people sold up a few years ago for low prices, and are angry now,' says estate agent Pelienė. 'Some people are selling today for really good prices – at 860 Euros per square metre.' Some people were counting on 'prices which are far too high,' which she as an estate agent could not support.
Not for 860 Euros
Liubove Gardak belongs to this group. She lives in her flat just where the skyscrapers start. 'We are hoping for an international investor, who will come and pay more than the Lithuanians. I'd be happy to leave for a good price.' She is not afraid of fires, she laughs. 'My son is a trained soldier, and the flat is well secured.' A Russian-Lithuanian couple in the next street are also playing poker – their plot directly on the planned main road. They would move out gladly 'for a good, reasonable price.' But not for 860 Euros per square metre.
Is everything just a question of money? For Algis M, twice-victim of arson, this is not at all the case. 'My family have lived here for 300 years. That's a whole dynasty. I love the birds and the quiet here.' Has the time come for a rural existence in the middle of Vilnius? Planning chief Matonienė explains that a kind of open-air museum should be created – with selected, historically significant wooden buildings. 'A street with cafés, restaurants and small shops.' Can the residents stay in their homes? 'We haven't thought about that yet. Perhaps they could if they want to open a shop?'
AUTHORS Dennis Maschmann, TRANSLATOR Ed Saunders